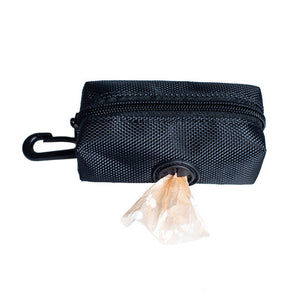 Buy our Pawfect Pack Dispenser knowing that a % of your purchase goes towards rescued stray dogs. One part will go to cover all dogs needs (feeding, medicines, vaccinations), and another part will go to prevent pet overpopulation in shelters while having all puppies and dogs neutered.

Introducing our Pawfect Pack Dispenser – the ultimate solution for hassle-free and hygienic pet waste management.
Say goodbye to messy walks and be a responsible pet owner with our convenient and reliable Poop Bag Dispenser. Designed for your convenience, our dispenser features easy tear-off functionality, ensuring you can effortlessly access bags whenever needed. The smooth opening and detaching mechanism guarantee a seamless experience, making clean-up quick and hassle-free.
🐾 Convenience in Your Hands - Our Pawfect Pack Dispenser dispenser is a must-have accessory for every dog owner. It's the perfect tool to keep your walks clean, enjoyable, and stress-free. No more messy surprises - order your dispenser today and experience the convenience firsthand!
🐾 Portable Perfection - Our Pawfect Pack Dispenser boasts a compact design and is perfectly sized to fit comfortably in your hand or attach to any leash, making it effortlessly portable wherever your adventures take you.
🐾 Weather Warrior - Rain or shine, our dispenser is up for the challenge. Made from premium waterproof material, it shields your waste bags from the elements, ensuring they stay dry and intact no matter the weather.
🐾 Built to Last - Crafted with durability in mind, our dispenser features a sturdy metal Carabiner Clip and secure magic sticker attachments. Say goodbye to flimsy dispensers - our design ensures long-lasting reliability.

🐾 Effortless Access - No more fumbling around when nature calls. Our dispenser boasts a convenient rubber feedhole, allowing you to effortlessly grab a bag with a quick pull. Enjoy swift and seamless clean-ups on the go.
🐾 Essential Pet Accessory - The must-have accessory for responsible pet owners, keeping your walks clean and enjoyable. 

Say goodbye to messy mishaps and hello to convenience with our Pawfect Pack Dispenser. It's time to take control of your dog walks and make clean-ups a breeze. Don't let anything slow you down - get your hands on our dispenser and step out with confidence!

If you aren't in LOVE with your purchase, just let us know within 14 days, and you'll receive a stress-free refund.