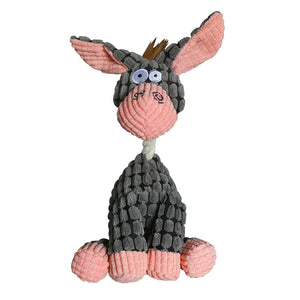 Buy our Pawfect Playtime Mate knowing that a % of your purchase goes towards rescued stray dogs. One part will go to cover all dogs needs (feeding, medicines, vaccinations), and another part will go to prevent pet overpopulation in shelters while having all puppies and dogs neutered.

Introducing our incredible "Super-Duper Chew-Proof Toy" – the ultimate playtime buddy for your teething furball!
Tired of those flimsy toys that claim to be "indestructible" but barely survive a week of puppy power? We feel your pain! It's frustrating when so-called tough toys crumble under pressure. But fear not! We've got a game-changer for you. Our plush toy is crafted from the sturdiest velvet shell known to dogkind.
Seriously, it's like fort-knocking your pup's chewing instincts! Say goodbye to endless toy replacements because this little wonder might just be their forever buddy.

🐾 Bye-Bye Boredom, Hello Happy Pup!
Watch your furry friend's stress and anxiety melt away as they sink their teeth into hours of fun. Our toy is here to keep their minds busy and tails wagging, especially when you're not around. Chewing is scientifically proven to be the ultimate boredom-buster, banishing loneliness, stress, frustration, and anxiety like a magic wand (well, almost!).
🐾 Squeaky Good Times!
Prepare yourself for some epic play sessions! This plush wonder comes with a built-in squeaker that's guaranteed to send your pup into a tailspin of excitement. The irresistible sound triggers their playful instincts, promoting tons of exercise and mental stimulation. A happy, healthy doggo? Check and check!
🐾 Healthy Teeth, Happy Woofs!
Who knew dental care could be so much fun? Chewing on our toy is like a spa treatment for your pup's pearly whites. With each delightful gnaw, plaque gets scraped away, leaving your doggo's teeth looking fabulous and breath smelling fresh. 
🐾 Vet-Approved and Paw-fectly Safe!
We've got your back, and your pet's too! Our toy is 100% safe for your fur baby, backed by enthusiastic veterinarians who give it two paws up. The plush inner layer is designed with your pet's safety in mind, even if they manage to unleash their inner toy destroyer (though, we've yet to witness that miracle!).
🐾 Easy Peasy Clean-Up, Breezy Squeaky
No worries about keeping things spick and span. When it's time to freshen up our toy, simply give it a quick hand wash or toss it in the machine on a gentle cycle. Voila! Good as new and ready for more playtime adventures.
If you aren't in LOVE with your purchase, just let us know within 14 days, and you'll receive a stress-free refund.